Personalised Maps & 'Story of You' Artworks
** Please note that my current lead time is 2 months **
88th Birthday artwork
Celebrating a grandmother's birthday, her grandchildren collected her memories into a portrait of her life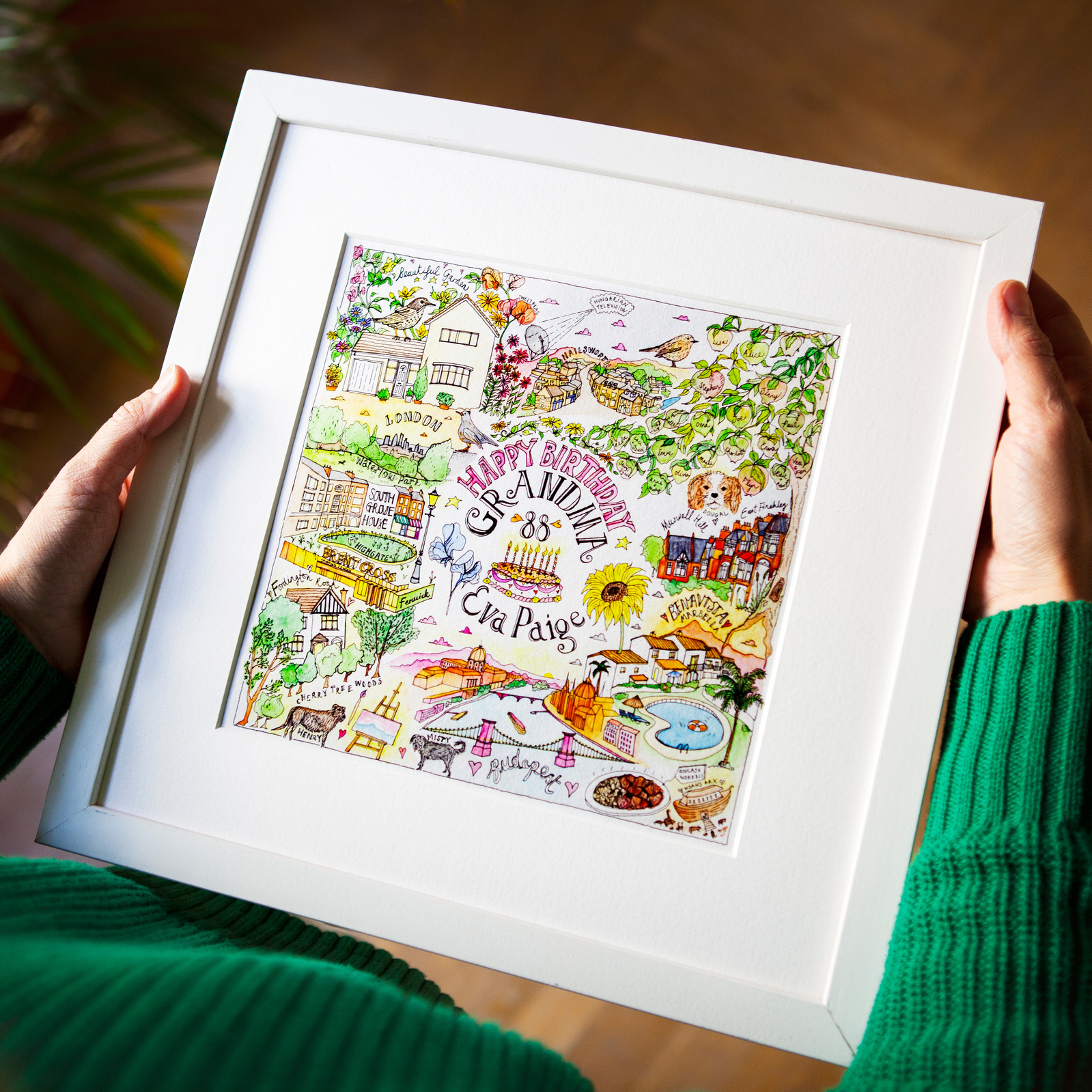 30th birthday artwork
For a special friend this 30th birthday artwork features the destinations on the birthday road trip through sunny California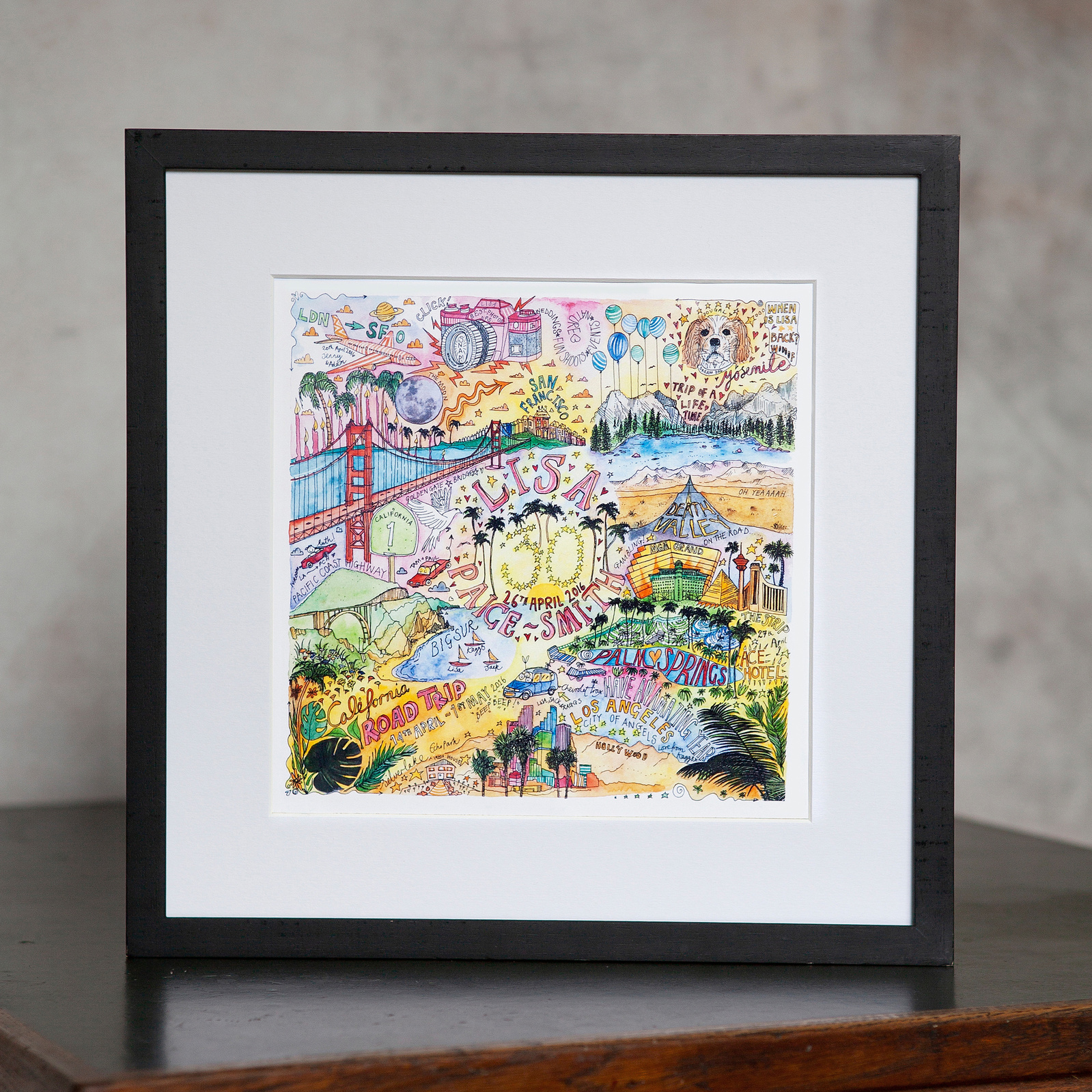 Personalised wedding map
They met on a beach in El Salvador and embarked on a series of journey in their beloved campervan. This artwork features their many roadtrips up to the wedding
80th birthday artwork
Featuring Rodwell's wedding day, favourite homes and beloved canal boat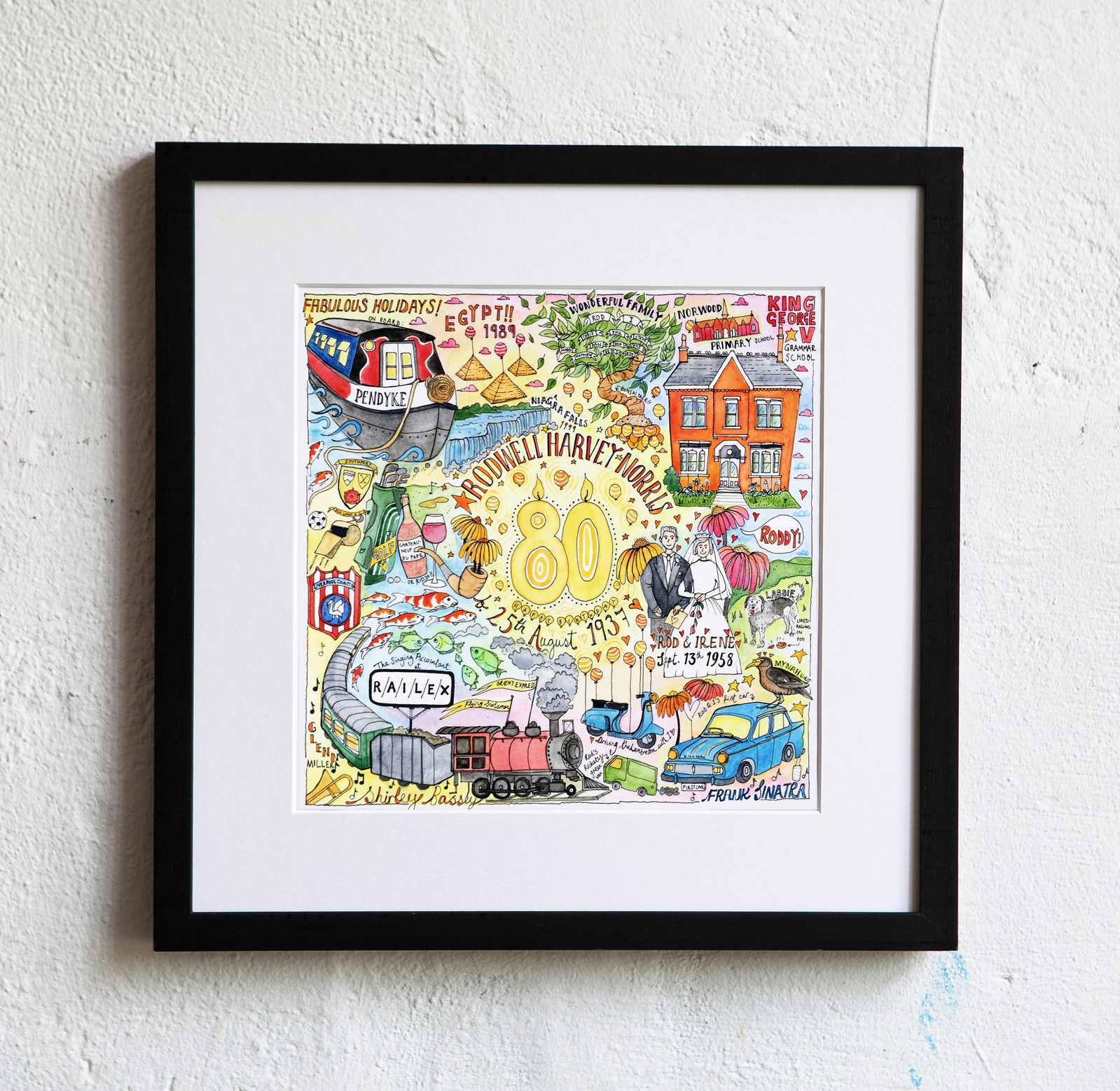 Life celebration artwork
Featuring their favourite travels and life together as a family
20th wedding anniversary artwork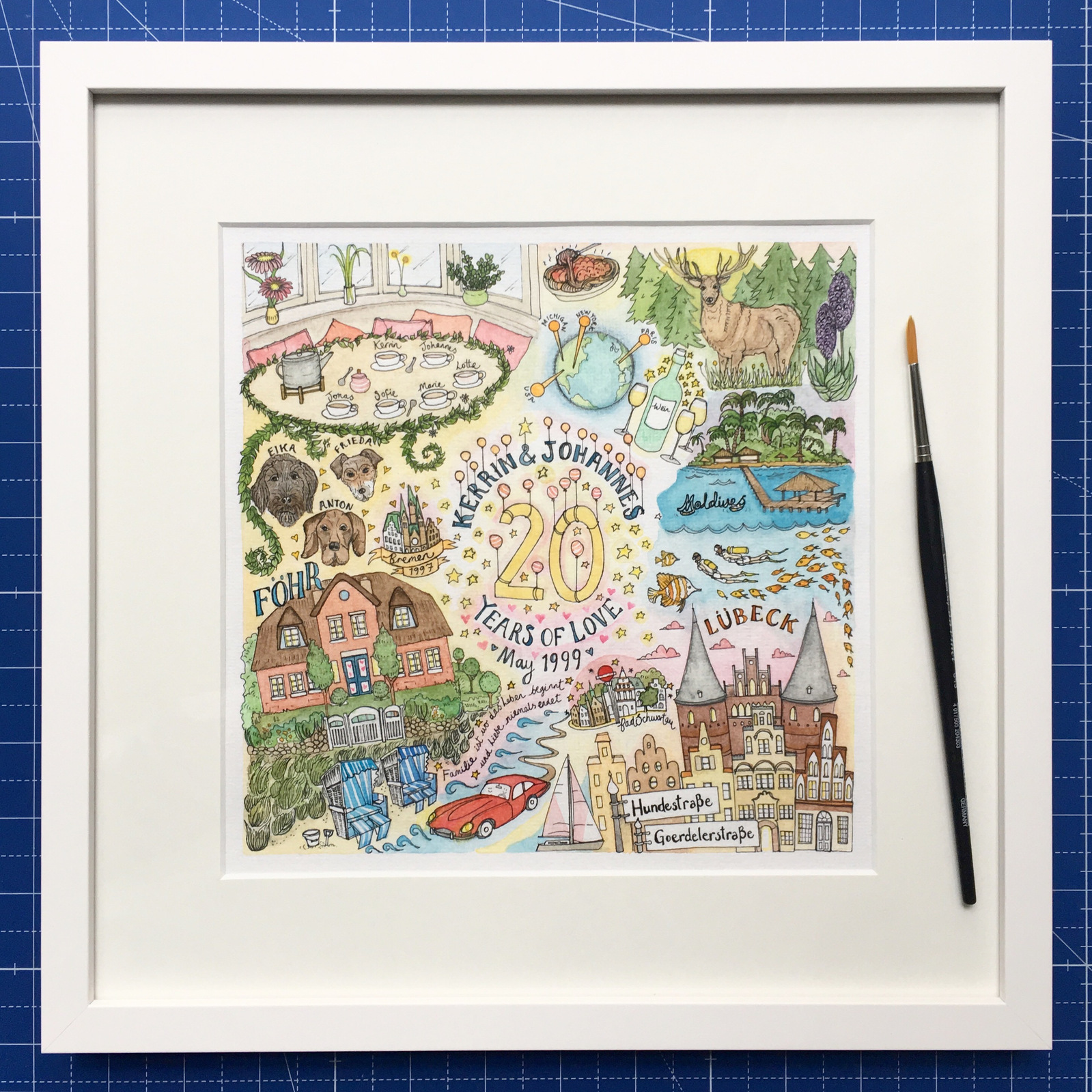 It gives me great pleasure to create personalised maps and artworks. I collaborate closely with every client to bring their ideas to life and enjoy fine tuning my pieces to ensure all personal details are just right.
Each personalised map is completely unique. Designed to reflect the life of the person it's made for, a lot of research, and a lot of love, goes into every bespoke piece I make.
My personalised maps and artworks make excellent gifts and are perfect for weddings, anniversaries, important birthdays and other special occasions.
Reviews
Katherine, thank you so much for the beautiful artwork you made for Bayju. He said it was the best present he had ever received. So many treasured memories, we keep looking at it. You've created a beautiful and original form to present a story - what a talent that is. It will be enjoyed for years to come.

- Priya Thakar
This artwork was so fun to create and the finished piece was just beautiful. Katherine was so easy to talk to and very quick to respond if we had an idea to run by her. Our friend said it was just the nicest present she'd ever received and had so much fun spotting different memories throughout the drawing! Thank you so much!
- Christi
Would definitely recommend! Had great experience collaborating with Katherine on a piece for my mums 60th birthday. Katherine took our family's ideas and really made them pop, creating a beautiful, sentimental picture that was loved by all. Thank you.

- Rhona
I knew I wanted to give my Mum a creative & personalised gift that celebrated her life for her 60th birthday but I had no idea how to do so. As soon as I saw Katherine's pieces I instantly knew that they were exactly what I was looking for, and 6 months later I gave my Mum the most special present she has ever received (her words not mine!!). Working with Katherine has been brilliant and I've loved how collaborative the process was from start to finish, she's always open to ideas and managed to recreate mine exactly how I envisioned them. She created the most perfect piece, portraying Mum's life story in the most creative ways and capturing the most special moments in the smallest details. The beautiful, vibrant colours she chose really brought the piece to life, and it brings back so many fond memories every time we look at it. It was a pleasure to work with such a lovely and talented illustrator, and I will 100% recommend Katherine to anyone looking for a special gift idea for a loved one! Thank you again Katherine :)

- Sophie Murray, Portsmouth, UK
The commisssioning process
To get started I require a list of ideas, a "brief", to be included in the artwork. This should specify who the artwork is for, the deadline and a list of what you would like to be included in the artwork.
Photos of specific items such as the family home, or favourite pets are also really helpful, although not absolutely necessary. Once I receive your finished brief, I will prepare a pencil sketch laying out the general composition to give you an idea of what the final artwork will look like.
This is the point at which we can make some additions and changes, and often seeing your ideas on paper can give you inspiration for some extra special personal touches.
I then prepare the final artwork, first drawing it in ink with my "Rotring" technical drawings pens, and then painting in watercolour. Each artwork is made on Vang 300g Universal Block paper, which is acid free, PH neutral and has superior archival and lightfast properties.
The Brief
When coming up with your brief use these guidelines below to inspire those ultra personal details! An artwork obviously does not have to feature any of these, these are just suggestions!

Who is the artwork for? Their name, family members, hobbies, pets, work life, first car etc.
Important places: Favourite holiday destinations, homes they have lived in, schools, wedding venue, places of work etc.

Central text: Would you like a central 'Happy Anniversary', 'Happy Birthday' with a special birthday number or their name/ date of birth etc. ?

The more personal details the better! Often it is those funny moments captured in a small detail that really make these personalised artworks special.
Pricing & Shipping
How long does it take?
Turn around is currently around 4 weeks, from receiving the initial brief to dispatching the artwork. Sometimes I can fast-track works, depending on my work load. If you have a tight deadline send me a message and I will see what I can do!

How much will it cost?
I have four standard sizes available. Prices are for the artwork only, framing and postage is extra (see details below).

- A6 (postcard size - 14.8cm x 10.5cm)
£220, with frame £245 (final frame size is 21cm x 15cm)



- A5 (half a sheet of A4 paper - 21cm x 14.8cm)
£380, with frame £405 (final frame size is A4 29.7cm x 21cm)



- Square (21cm x 21cm)
£550, with frame £575 (final frame size is 30cm x 30cm)

- A4 (29,7cm x 21cm)
£730, with frame £755
Please note that where applicable (for customers located in Germany) these prices do not include any VAT.


If you have a specific size in mind which is not listed, send me a message and I will give you a quote.
How do I receive the artwork?
I ship artworks worldwide from Berlin with DHL, insured with tracking for £30.
I can also provide digital files that you can print and frame yourself, if desired.
PLEASE NOTE: Shipments to the UK and outside the EU will be subject to customs and import taxes, which will be payable when you receive your artwork. It is the buyer's responsibilty to handle these fees.
Like to discuss an idea or start an order?
If you would like to know more, fill out the form below of send me an email at katherinekannon@gmail.com